The Eco Pass
The Eco Pass and You. Let's Get to Work!
A Discount Pass Program of the Utah Transit Authority

Whether a business employs 10 or 10,000 employees, there's a UTA Eco Pass Program for you!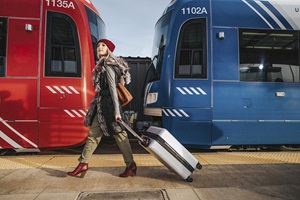 Here's how the Eco Pass can benefit your employees:
Enhance your total compensation package to attract and retain the best employees.


Support employees' health and wellness with active commute options over sedentary time driving to work.


Promote clean air and a sustainable community.


Put money back in your employees' pockets: A commuter pass can be a pre-tax expense, lowering an employee's taxable income.

Employers may arrange a pre-tax transportation payroll deduction for employees to pay for transportation costs such as transit fares and vanpool fees. The pre-tax deduction may be combined with an employer subsidy.

Because pre-tax deductions reduce the amount of employees' taxable earnings, it reduces the amount of taxes you and your employees pay on the employees' income. Please check with your tax advisor for your organization's situation.

Contact your benefits, payroll provider or a third-party benefits administrator about coordinating a pre-tax transportation deduction.
---
Eco Pass Options
UTA'S pass programs are designed with your business in mind.

Choose from four simple and flexible options to get your employees on board.
- Best for companies with more than 100 employees; largest savings.

With the annual preferred program, you buy passes for 100%* of your employee population. A convenient option for providing passes to employees who frequently use transit. Additional passes purchased throughout the year are prorated, so you can add new employees during the program year.
*Requires 100 employee participation or 100%, whichever is greater
- Flexible, one-year pass.

With the annual select program, you buy passes for only those employees interested in a transit pass program. This pass is great for frequent transit users. Additional passes may be purchased throughout the year at a prorated price, so you can add new employees during the program year.
*Requires 30 employee participation
- Maximum flexibility at a low monthly rate; most popular.

Our most requested and most flexible pass option. The ECO Monthly pass has all the same great benefits of the annual ECO pass, without the 12-month commitment. The monthly billing makes it simple for the employer to subsidize the pass price and to offer pre-tax benefits.
*Requires 10 employee participation per month
- Low daily rate: only pay for what you use.

The ECO Daily pass is a great option for employers looking to subsidize the full price of the transit benefit. This program allows you to put a pass in every pocket and only pay for actual transit use at a low daily rate*.
*$500 per month minimum
---
How We Can Help
We want your transit program to succeed, so we are here to help every step of the way!


One-on-One Support From a UTA Sales Representative
We will work with a member of your staff to set up and administer your new transit pass benefit.


Access to an Easy-to-Use Administration Portal
We will provide members of your staff access to a partner portal to easily access information and make real-time changes to your program passes.


Promotional Material and Resource Fairs
Take advantage of campaigns, marketing, and promotional material. Invite us to your worksite to promote your transportation benefit and answer questions.


Guaranteed Ride Home Program
Never worry about getting home during an emergency. UTA offers a guaranteed ride home to all Eco Pass Holders. Ask your rep for more information.


---
Resources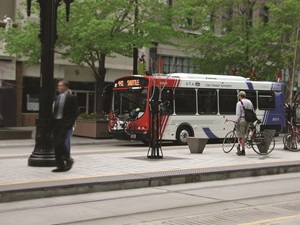 For additional information or to get signed up, please complete the following form and a UTA representative will contact you.
---